The Still House String Band is a bluegrass band with a pedal board addiction. Our original tunes will make you sing and our covers will make you dance. After playing for over a year every Thursday night at the Peach Street Distillery in Palisade, Colorado as their "house band" the Still House String Band was formed. Drawing inspiration from The Grateful Dead, Yonder Mountain String Band, Jeff Austin Band, Leftover Salmon, The String Cheese Incident, New Grass Revival, Greensky Bluegrass, and more recently Billy Strings, as well as countless other musicians*, our fans enjoy our unpredictable shows, gravity-defying solos, and love of a good time. Learn about the band members and their musical journeys below.
*for a list of "Bluegrass" musicians that inspired our music please refer to John Hartford's song "Tater Tate and Allen Mundy" https://shorturl.at/lsCKU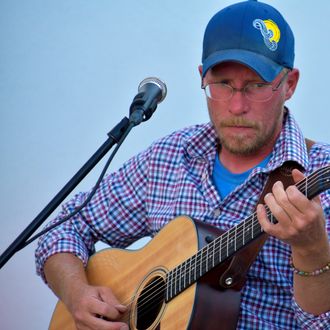 Bud Frisinger
Guitar, vocals
After deciding that traveling and music was more interesting than an education, he bought a guitar, got a dog and hit the road. From busking college campuses all over the country to living in the hills of Humboldt County California he made his way to the high desert peach capital paradise of Palisade, Colorado. Spending time in  local watering holes, he became one of the many talented local musicians that frequented the weekly jams, until he started the nonprofit Thursdays at the Peach Street Distillery. From the many Thursdays playing with friends in the tasting room, the Still House String Band was formed and has been Palisade's party grass band ever since.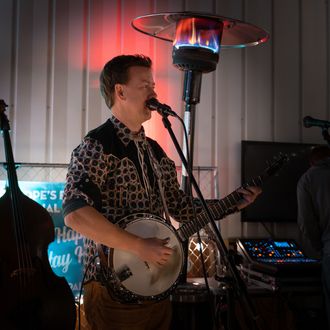 Clinton Knorpp
Banjo, vocals
At the end of Clinton's senior year of High School he found the tablature for Duelling Banjos in a music store. He purchased that sheet music and went home to dig out the dusty old banjo that his mother had given to his father when they were dating. That summer was spent learning bluegrass and fiddle tunes, and listening to his heroes like Bela, Earl, Ralph, Yonder Mountain String Band, Hot Rize, The String Cheese Incident, and smoking pure Texas swag. Clinton moved to Gunnison Colorado in 2002 and eventually formed The Clingtones that melted faces until 2006 when Clinton began traveling the country. Upon returning to Colorado in 2012 Clinton joined the Duck Pond in Denver and later formed The Bluegrass Offenders in Grand Junction. Clinton is an alumni of the first ever Bela Fleck Blueridge Banjo Camp as well as Vol. 2 & 3 of the same camp. Clinton finds his voice in single string, driving bluegrass backing rolls, and the use of effects on his Scott Vestal Stealth Banjo. His Banjo playing combined with his vocal prowess and song writing help shape the bands unique sound.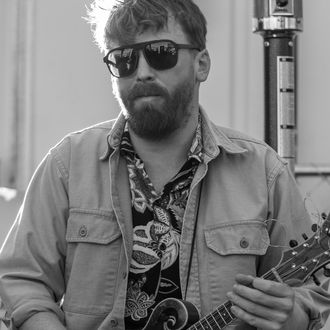 Kyle Lockhart
Mandolin, Jokes
Kyle Lockhart is a Midwest boy in a ski jumpers life. The high lonesome sounds of Bill Monroe drew Kyle to the eight string mandolin and trapped him inside its f-hole. Kyle has traveled all over the country ski jumping and playing music but has found himself living in Palisade where he met up with the Still House String Band. He can chop and pick just as fast as the best of them and many times plays so good that he literally elevates off the stage. If Sam Bush and Drew Emmitt had a love child, it would be Kyle Lockhart.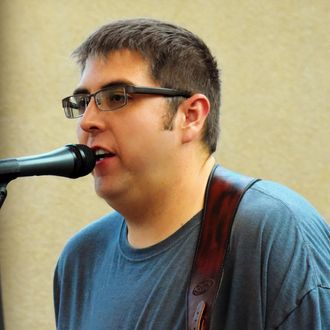 Kyle Elliott
Dobro, vocals
Kyle Elliot began playing music before he could drive. Growing up in Fruita, Colorado he has played with every bluegrass musician in the Grand Valley at some point or another. Whether its guitar, bass or banjo Kyle can rip them all, but he eventually found his way to the buttery smooth sounds of the resophonic guitar (dobro). When you hear Kyle's playing you will think that you died and went to Jerry Douglas Heaven. All Hail the King of Meme's!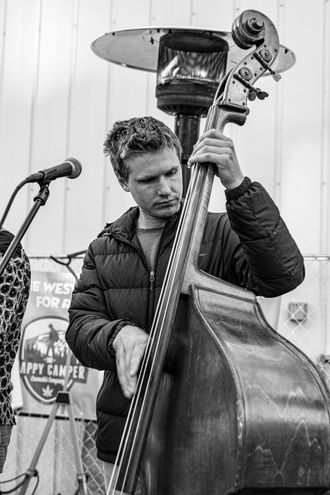 Everett Merritt
Bass, Vocals
Everitt Merritt grew up steeped in bluegrass and folk music in Fort Collins, Colorado. He began playing bluegrass and Irish fiddle as a five year old, and by the time he was eight had become the Colorado Old Time Fiddle Champion, in the "Small Fry" division. Nurtured by the vibrant Colorado bluegrass scene, he soon traded the fiddle in for the mandolin and guitar. As a teenager he began playing upright bass in a jazz combo group, and formed several eclectic bands, from the emo-folk Jam Jars to trad-jazz Sometimes Five Jazz Quartet. In 2022, he moved to Grand Junction, where he became connected with the active bluegrass community in western Colorado. Everett earns community service hours while playing with the Still House String Band and hopes to someday get off music probation for forming a emo-folk band.